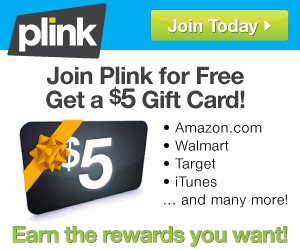 Join Plink and receive a Free $5 gift card of your choice (Amazon.com, Kohls, Walmart, Facebook and more).  Then continue to earn rewards when you shop & dine out at your favorite places.
GO HERE to sign up (it took about 5 min for the points to show up after signing up)  Then the next day I got the code for my Amazon gift card.
**To qualify for the $5 Gift Card, you must be a new user. Valid user information required. Securely and successfully connect any credit or debit card to your Plink account.